Weekends are the perfect time to unwind and have some fun after a long and busy week. Whether you are looking to relax or get your adrenaline pumping, there is the perfect chance to escape from the daily chores and treat yourself and your family to a well-deserved getaway.
If you are planning a weekend road trip and want to make the most of your driving experience, consider signing up for a BHPetrol eCard and the eCard app! Not only will it help you save money and earn 2x points on fuel, but it also offers extra value to exclusive promotions on entertainment like movies, waterparks, and your favourite theme parks.
Now with the BHPetrol eCard app, collecting ePoints at selected BHPetromarts and BHPetrol stations is more convenient and time-efficient! With the eCard app, you can collect ePoints at the outdoor terminal when using your credit card for fuelling. If you are shopping in the BHPetromarts, you can also collect ePoints at the indoor terminal by simply presenting your QR code in the eCard app to scan in your accumulated points at the cashier counter!
Explore great BHPetrol eCard app partner rewards just for you – check out these 5 fun places worth visiting on weekend and their exclusive offers that you shouldn't miss out on!
1) Sunway Lagoon (by Tourplus)

Calling all adventurers and water activity enthusiasts! If you haven't already visited the famous Sunway Lagoon water park, it's time to add it to your must-visit list. Located only a short 45-minute drive from Kuala Lumpur, this expansive park promises to provide the perfect escape from the city heat. With over 90 rides and attractions across its six exhilarating experiences, Sunway Lagoon rewards its visitors with an adventurous and fun-filled afternoon for the whole family.
Partnering with Tourplus, you can now instantly save 10%* on the waterpark ticket by redeeming your exclusive code on BHPetrol eCard app!
*T&Cs apply.
2) GSC Cinema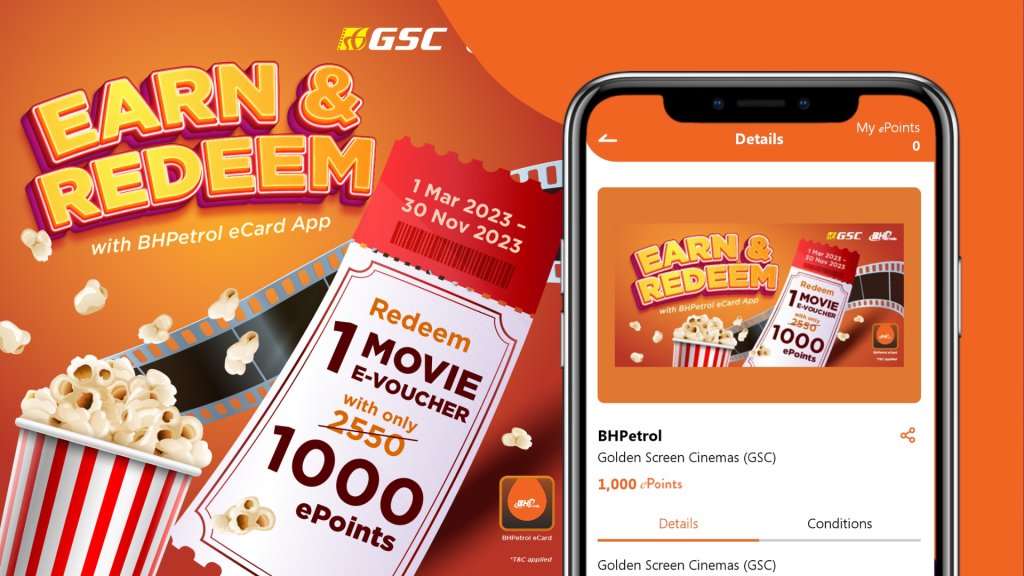 If you are a movie lover then spending your weekend at the cinema is an excellent idea. GSC Movie theatres offer a wide selection of movies, from action, romance to comedy – there's something for everyone. So grab some popcorn and get lost on the big screen to catch the latest blockbuster!
Great deals await all BHPetrol eCard app users! You can now redeem one (1) free movie ticket* with only 1,000 ePoints by using a personalised voucher code through the GSC Ticketing Kiosk, GSC e-payment at gsc.com.my or GSC Mobile Apps. 
Click here to learn more!
*T&Cs apply.
3) LEGOLAND (by Tourplus)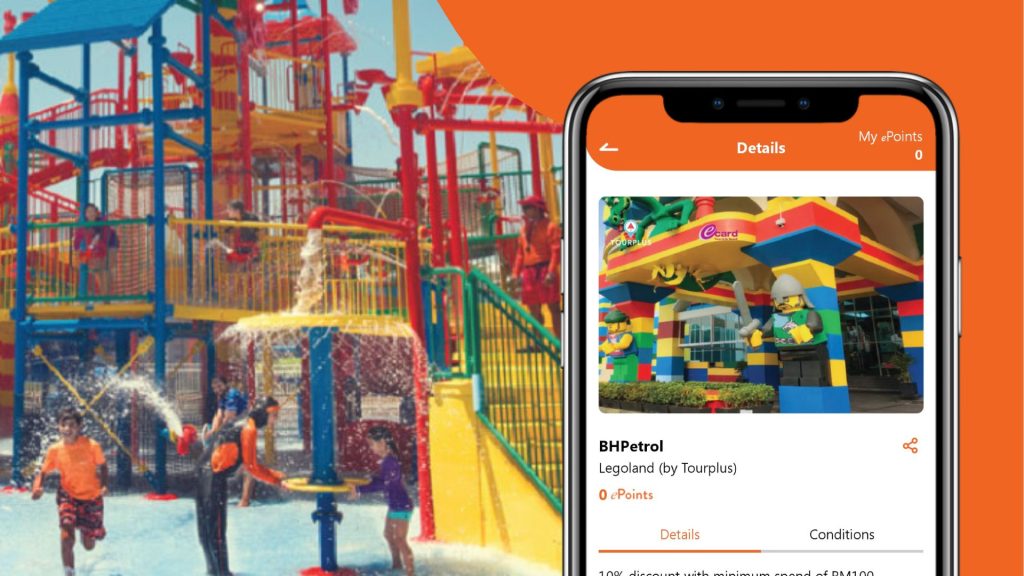 Embark on the kids-friendly LEGO-themed ride with your family by visiting LEGOLAND Malaysia Resort. This theme park features over 80 attractions inspired by Lego bricks – from roller coasters to mini cities made entirely out of Lego blocks! Get ready to indulge in the brick world with exciting rides, high-quality delicacies, and merchandise, guaranteeing you and your family a full day of joy here! 
What's more? Now with BHPetrol eCard app, you can redeem a 10%* discount code with a minimum spend of RM100 on LEGOLAND Malaysia One Day Pass through Tourplus website!
*T&Cs apply.
4) Red Box Karaoke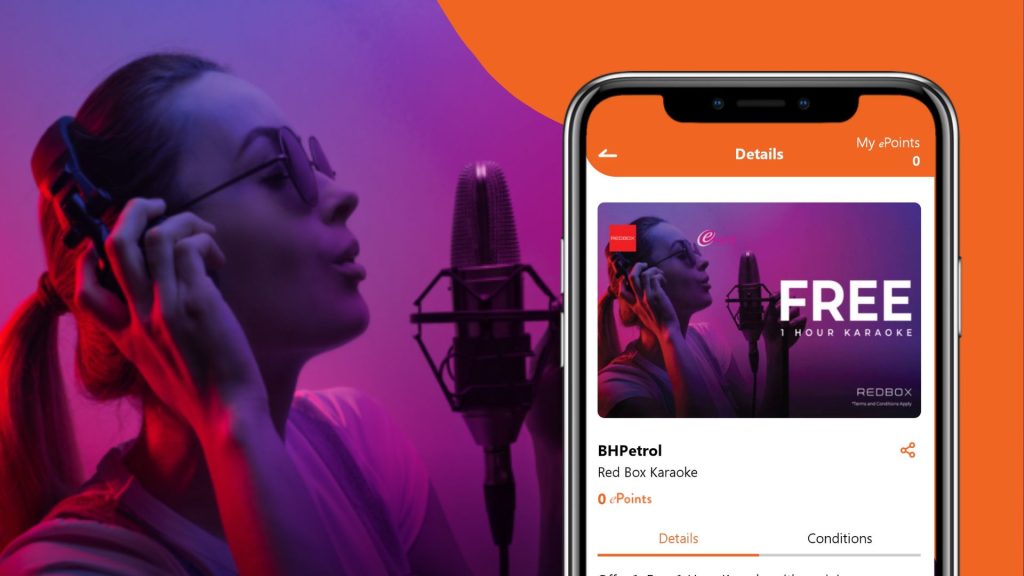 Sing your heart out with friends at Red Box Karaoke. With private rooms equipped with advanced sound systems, comfortable sofas, and an extensive song selection in multiple languages, giving you the ultimate karaoke experience.
Whether to celebrate your birthdays, social gatherings, or just desire to own your stage, max up the fun with exclusive offers at BHPetrol eCard app now to get the complimentary 1-hour add-on* karaoke session! Valid at any Red Box & Green Box Karaoke outlets except Red Box Plus Pavilion KL outlet.
*T&Cs apply.
5) Lost World of Tambun (by Tourplus)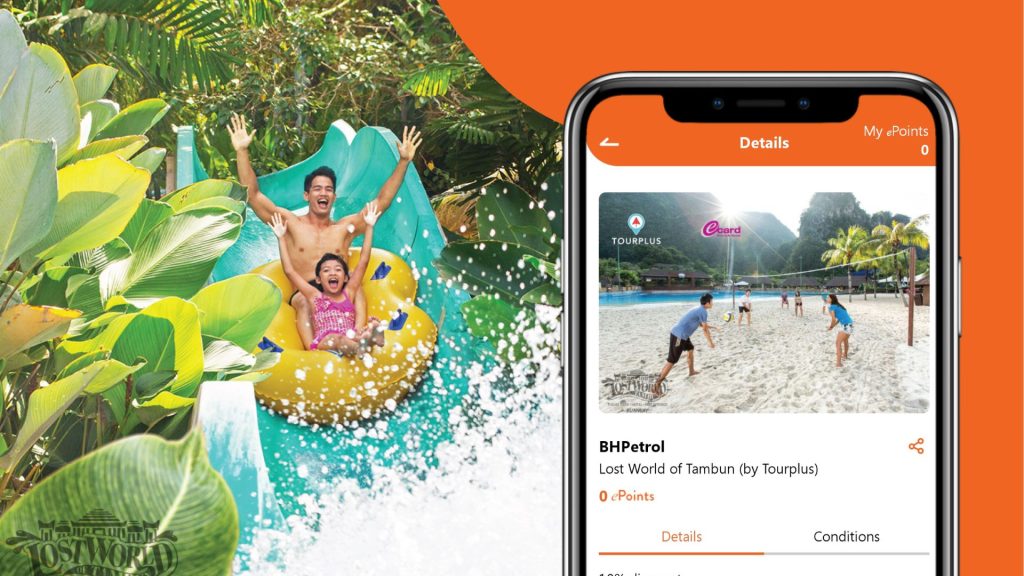 If you enjoy lush greenery, here's another great waterpark option in the scenic setting – Lost World of Tambun Waterpark in Ipoh. This family-friendly park boasts natural hot springs, a petting zoo, and plenty of water rides to keep you entertained all day long.
Don't miss out on the exclusive deal on BHPetrol eCard app – you can now redeem the instant 10%* discount on your admission purchase via Tourplus!
*T&Cs apply.
Can't wait to plan for your weekend getaways? Don't forget to save this blog for later to save more while having fun at these 5 fun places worth visiting when you're with BHPetrol eCard app What are you waiting for? Download the BHPetrol eCard app and start enjoying its privileges now!