Are you heavily relying on coffee to fuel your day? We know that finding time for a sit-down coffee break can be a challenge with a packed schedule. That's why grab-and-go coffee may sound like a better idea to many drivers who need an instant caffeine boost without having to take time out of their day.
The good news is that there are plenty of great grab-and-go coffee spots in selected BHPetrol stations, offering one-stop for refuelling, taking a break while grabbing delicious drinks and enjoying them on the go. What's even better? Now with BHPetrol eCard and eCard app, you can even save money and earn points at any of the 400 BHPetrol stations across the country! 
So buckle up and let's take a coffee hunt journey through this list of 7 must-try grab-and-go coffee spots for drivers in Malaysia!
1) ZUS Coffee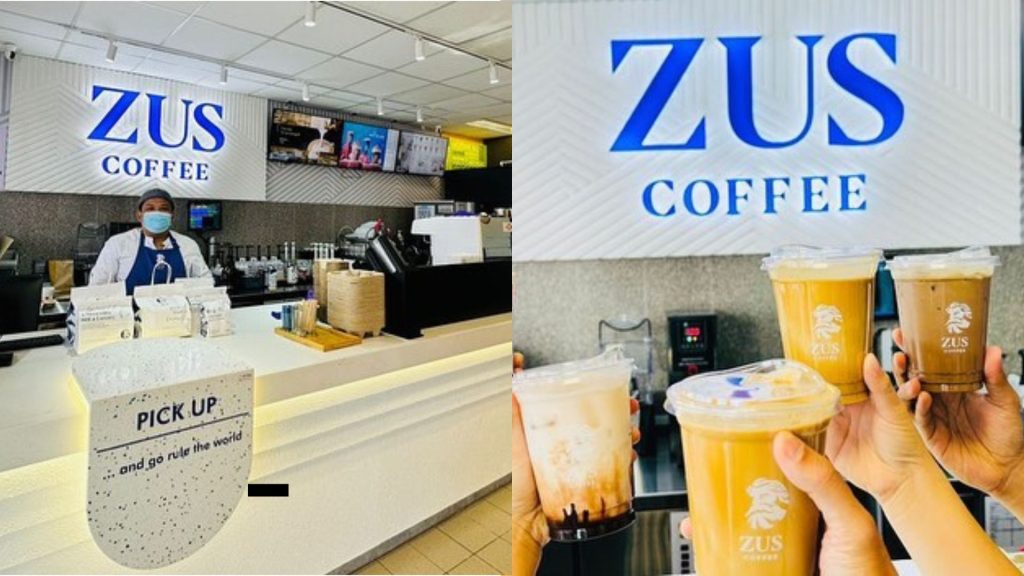 Zus Coffee is a Malaysian-based coffee chain known for its speciality coffee offerings. With the best quality ingredients and high-level coffee brewing technology, Zus Coffee is also famous for its unique blends such as its signature ZUS Gula Melaka, Japanese Genmai Matcha Latte, and the Sparkling Americano with Honey Lemon (Thunder).
Locate ZUS Coffee:
📍 BHPetrol Jalan Maarof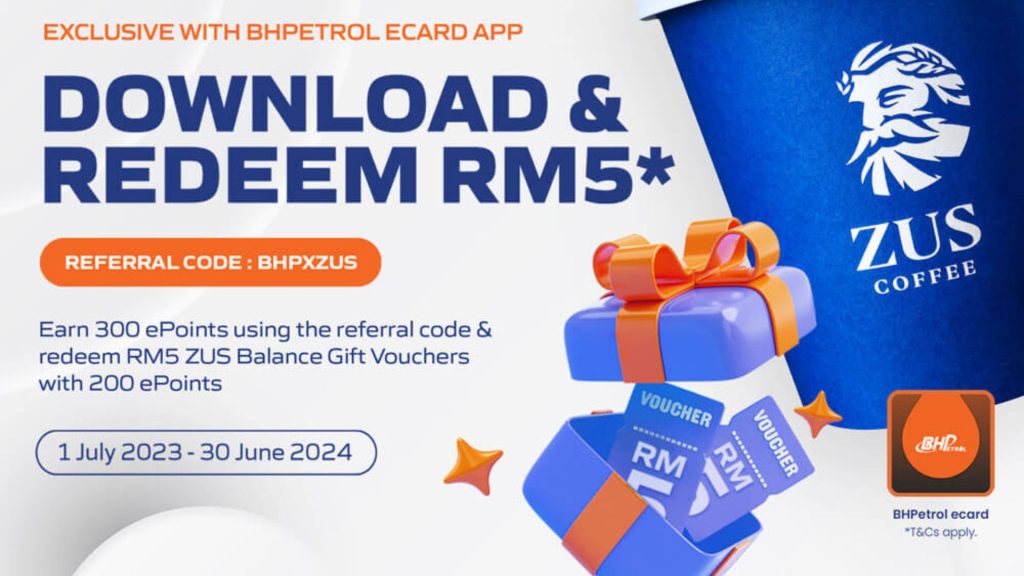 If you're opting for a delivery service, consider downloading BHPetrol eCard app and redeem your 300 ePoints using the BHPetrol X ZUS Coffee referral code to claim your instant cash voucher! You can use the ePoints to redeem RM5 ZUS Coffee voucher only at BHPetrol eCard app every month!
2) Richiamo Coffee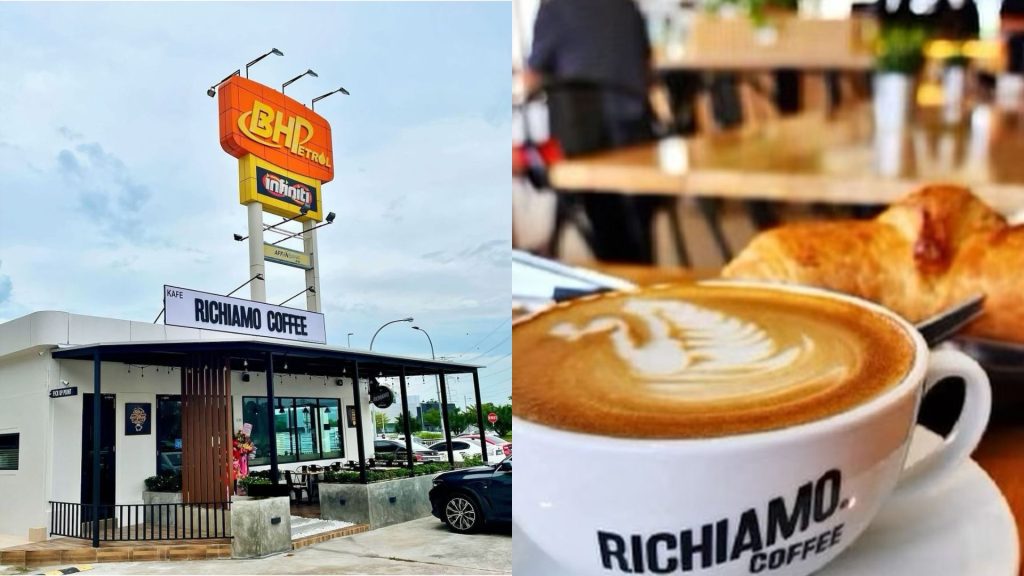 Loved by many locals, Richiamo Coffee gained its popularity for its dedication to serving freshly brewed coffee, prioritising the use of premium Arabica beans, which results in smooth and aromatic coffee experiences. Besides traditional coffee, Richiamo also offers signature beverages and speciality lattes that cater to different taste preferences. 
Locate Richiamo Coffee:
📍 BHPetrol Jalan Baru, Perai
3) Gloria Jean's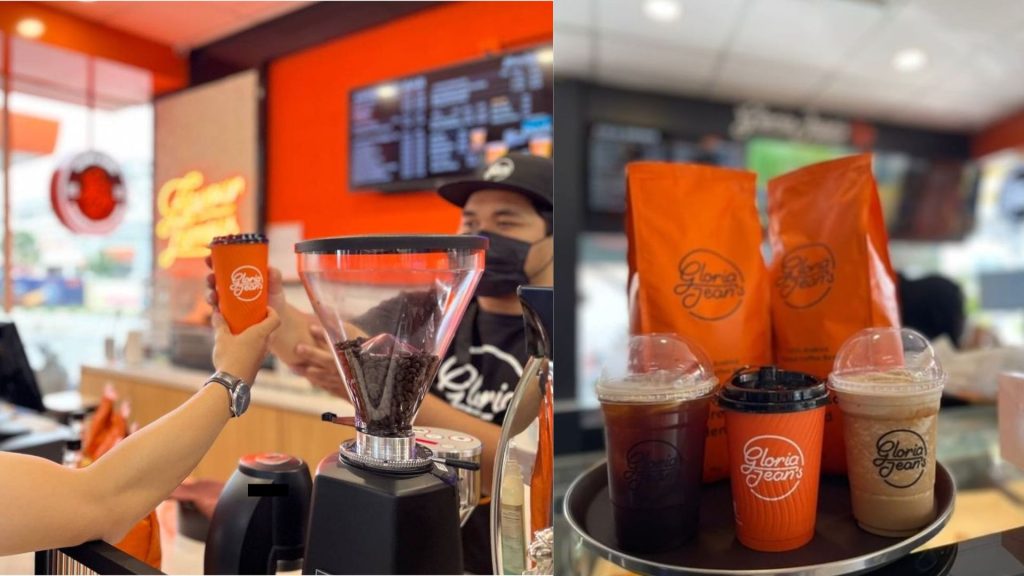 Whether you're a coffee enthusiast looking for high-quality brews or someone seeking a refreshing beverage, Gloria Jean's Coffees offers a range of options to satisfy your cravings! With its iconic orange colour, Gloria Jean's is also known for its extensive menu that features creative flavour combinations, speciality syrups, and toppings. 
Travelling with your kids or a non-coffee drinker? Gloria Jean's also offers an array of blended beverages, smoothies, and cold drinks, ensuring there's something for everyone.
Locate Gloria Jean's Coffee:
📍BHPetrol Jalan Kuching
📍 BHPetrol Kayu Ara
4) Dunkin' Donuts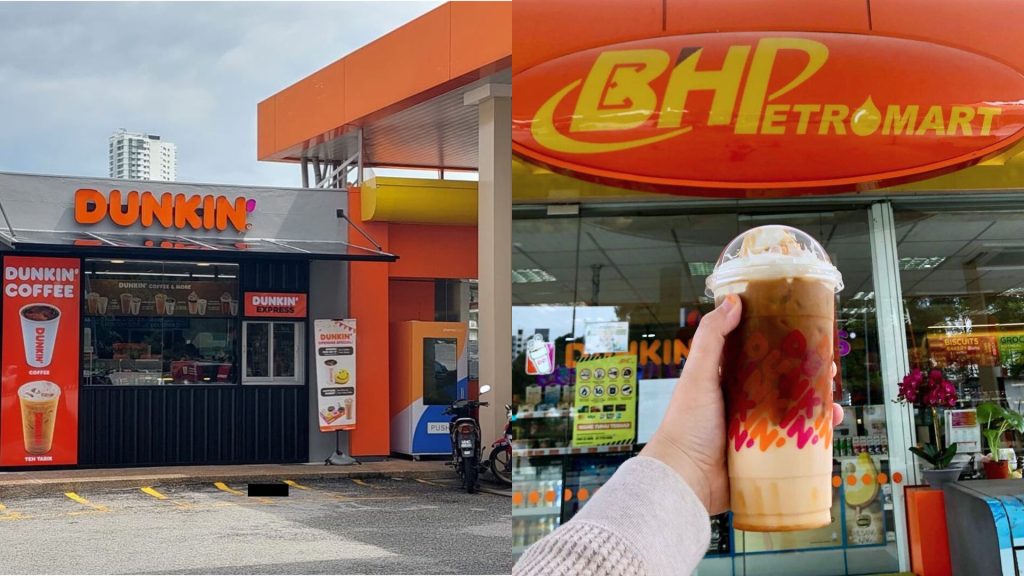 Being a renowned fast-food chain with a strong presence in Malaysia, Dunkin' Donuts needs no more introduction. Although famous for its doughnuts, Dunkin' also serves a range of coffee options, including its signature Dunkin' Original Blend coffee and flavoured coffee selections in hot and cold options. With an accessible take-out counter, you can easily grab a cuppa coffee to go while you're out and about.
Locate Dunkin' Donuts:
📍 BHPetrol Karak
📍 BHPetrol Sg Buloh
📍 BHPetrol Jalan Cheras
📍 BHPetrol Bentong
📍 BHPetrol Ladang Bikam
5) McDonald's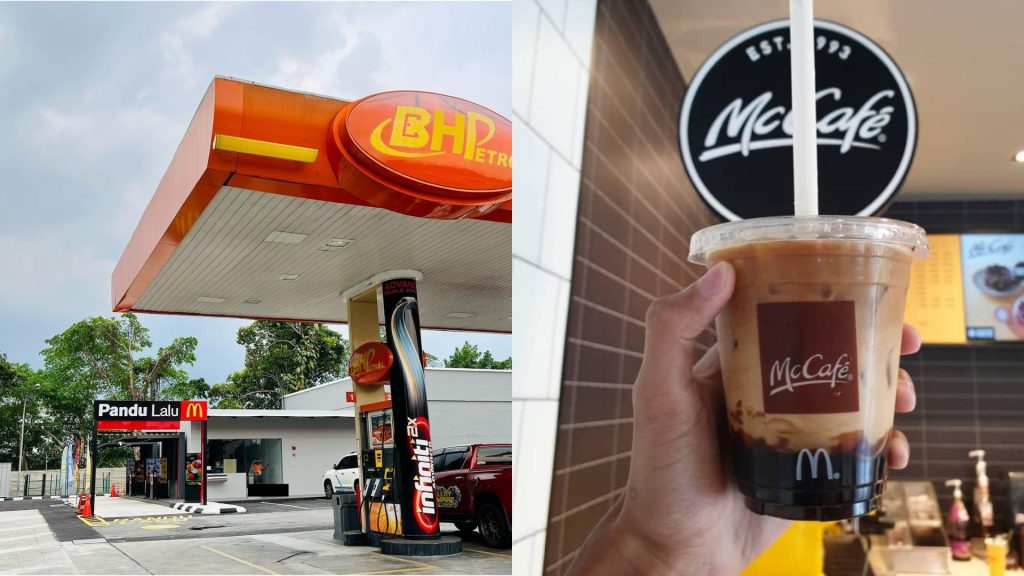 Conveniently equipped with a drive-thru driveway, McDonald's and Mc Cafe are ready to serve coffee to many drivers in Malaysia. Their McCafe concept offers a selection of coffee and non-coffee beverages which includes standard coffee options and other limited-time speciality drinks like Green Tea Latte. For drivers looking for a quick caffeine boost, McDonald's drive-thru service and accessible locations make it easy to grab a coffee without leaving the car.
Locate McCafe:
📍 BHPetrol Taman Melawati DT
📍 BHPetrol Taman Kosas DT
📍 BHPetrol Jalan Kapar
📍 BHPetrol Jalan Kepong
📍 BHPetrol Kewajipan DT
📍 BHPetrol Subang Airport DT
6) Costa Coffee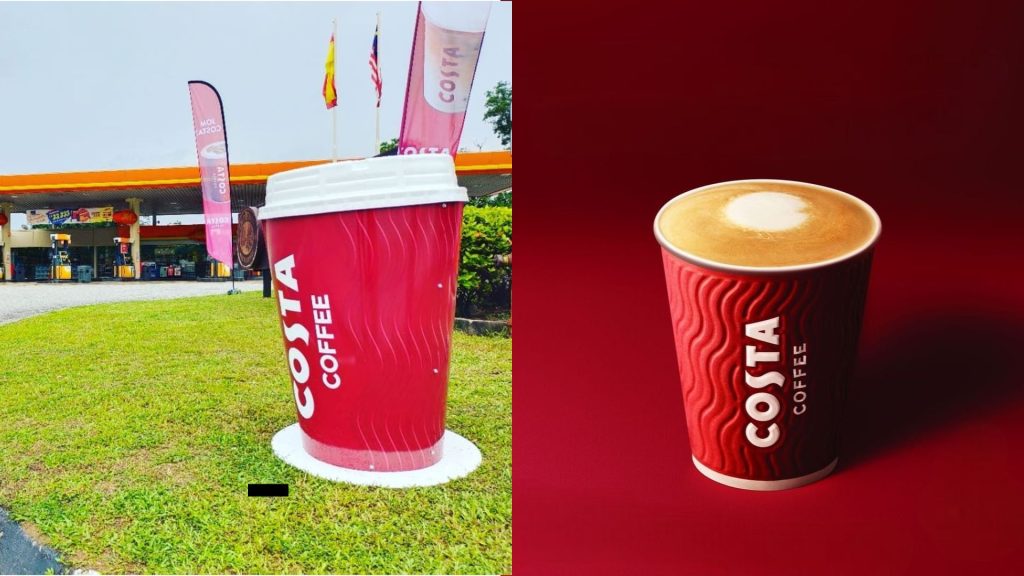 Costa Coffee offers a range of coffee beverages made from their signature Mocha Italia beans, delivering the perfect balance of hearty flavour, rich aroma, and smooth taste. From classic espresso-based drinks like cappuccinos and macchiatos to indulgent flavoured lattes, Costa Coffee has something for every coffee lover! 
Locate Costa Coffee:
📍 BHPetrol KL – Karak Highway
📍 BHPetrol Sg Dua Highway (North & South Bound)
📍 BHPetrol Pagoh Highway (North & South)
📍 BHPetrol Tapah Highway
📍 BHPetrol Sg Besi Harmony
📍 BHPetrol Jalan Kuching
📍 BHPetrol Jalan KTJBB
7) BHPetromart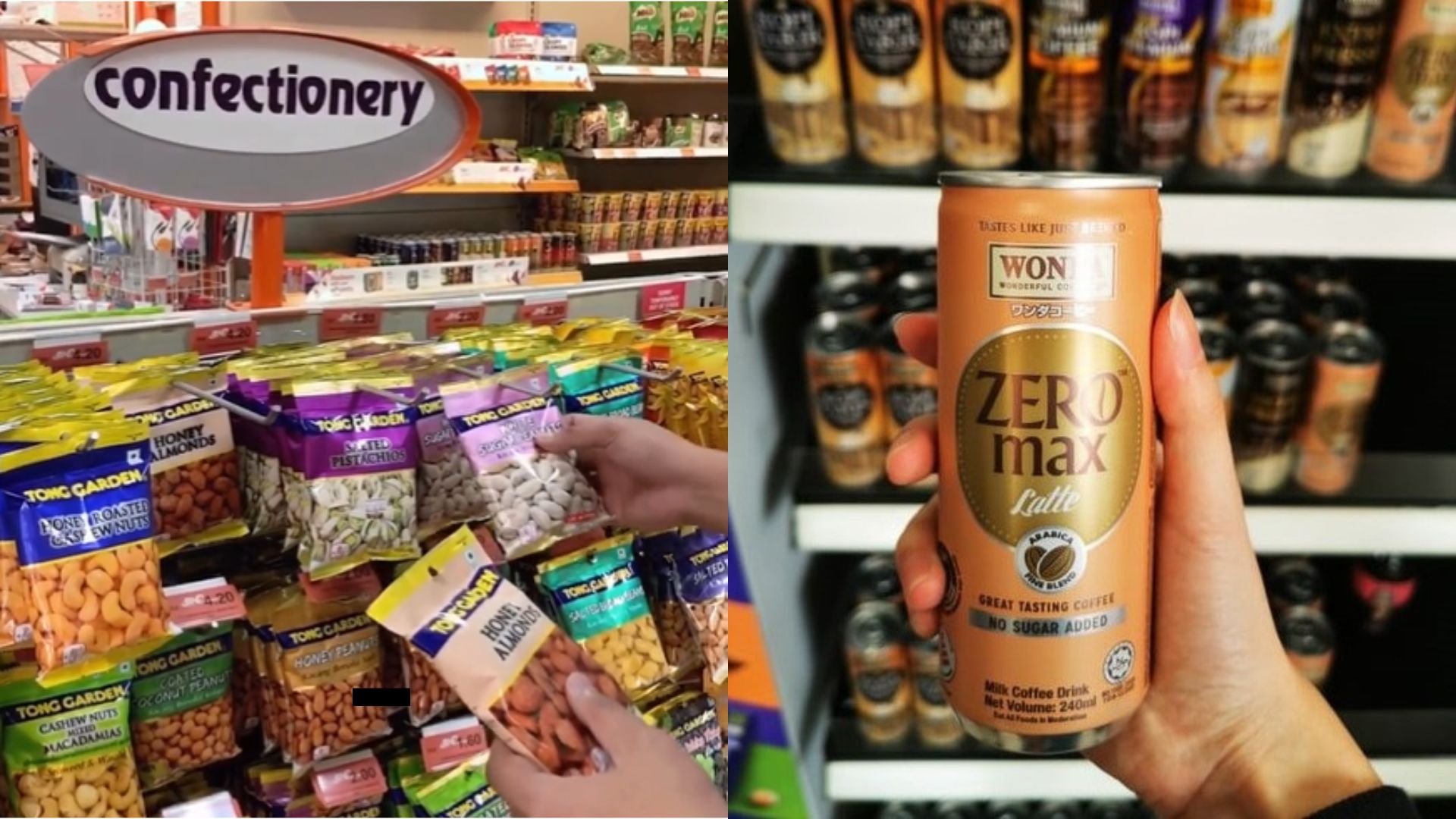 When you're short on time and seeking a quick caffeine fix, look no further than the BHPetromart conveniently located in every BHPetrol station. Aside from offering snacks and necessities, In addition to our selection of snacks and essentials, our chiller is also stocked with a wide range of refreshing canned coffees, presenting a variety of options to choose from. 
What's more? With 400 BHPetrol stations around the country, you can now easily collect and redeem ePoints at the indoor terminal by showing the QR code on the BHPetrol eCard app and scanning it at the cashier counter to add up your points.
There you go, 7 local grab-and-go coffee spots that you can check out to satisfy your caffeine cravings!
Did you know? By being an eCard app user, you also get to join BHPetrol's exclusive campaigns and enjoy even greater member benefits:
Collect Your ePoints Instantly with eCard app
Collecting points is now more convenient and time-efficient.

E

arn

2X ePoints

with every purchase of petrol and diesel! 
Referral Program To Get More ePoints!
Refer a friend and earn 100 ePoints (equivalent to RM1) each when your friends spend an accumulated of RM30 at participating BHPetrol service stations. 

The "

Share More, Earn More!

" referral program is limited to a total of 35,000 redemptions only. 
*T&Cs apply.