A time of togetherness, the Chinese New Year holiday brings family members together who travel far and wide to exchange well wishes for the upcoming year.
Chinese New Year's food traditions are highly symbolic. In the new year, two whole fish are served and one is saved for leftovers. Other dishes include spring rolls, which resemble gold bars and symbolize wealth, and a whole chicken to represent wholeness and prosperity.
It's definitely not a secret that Chinese New Year is all about food. To encourage unity between cultures this Chinese New Year, we've rounded up 5 easy-to-follow and halal-friendly recipes for the upcoming CNY reunion dinner! Whether you're looking for a recipe for a main course, noodles and rice, sides, or anything in between, look no further!
Before we get started, you might want to check out our blog article on our top 3 tips on how to cook safely if you're cooking up a storm for your CNY reunion dinner!
Recipe #1: Chinese Steam Fish With Soy Sauce
Difficulty: Easy | Servings: 4 person | Prep time: 10 minutes | Cooking time: 15 minutes | Total time: 25 minutes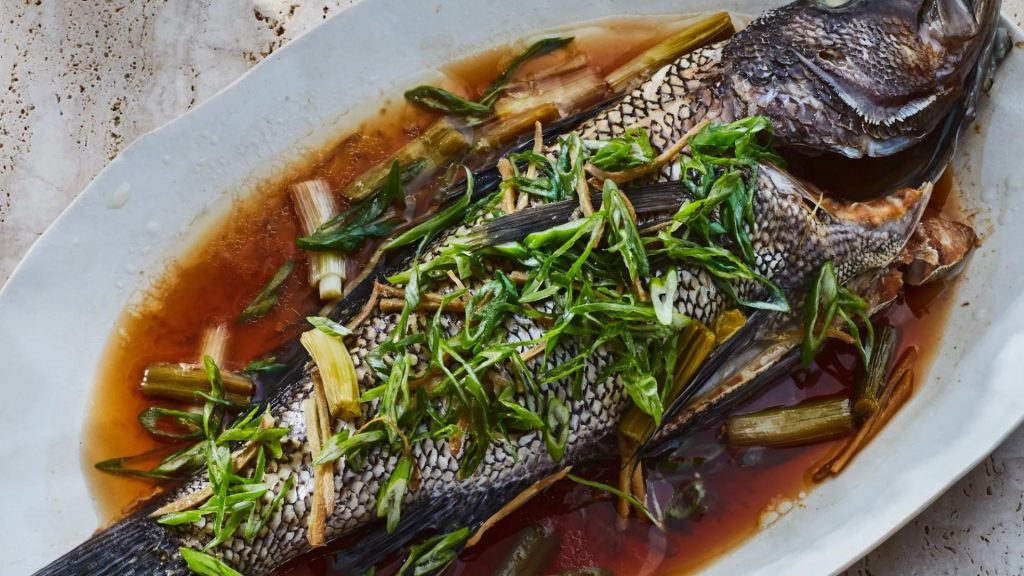 Traditionally, Chinese New Year and other major celebrations typically feature whole steamed fish as a sign of abundance. By serving the whole fish, you are ensuring a prosperous start and a prosperous finish to the new year from head to tail with good luck at every turn!
Ingredients
800g fish suitable for steaming (garoupa, tilapia or your favorite fish!)
6 pieces of shallots
One teaspoon of salt
½ tablespoon of sesame oil
½ cup of vegetable oil
½ tablespoon of soy sauce
6 stalks of spring onions
1 fresh red chili
1 bunch of coriander leaves
Kitchen Equipment
A wok and wok cover
A frying pan
A steaming rack
A heat-proof plate
Directions
Rinse and clean the fish thoroughly under water. Remove any residue or innards and blood. Shake off the remaining water and use a kitchen paper towel to pat the fish dry.
Drizzle some vegetable oil, sesame oil and sprinkle some salt evenly on both sides of the fish. Leave the marination to work its wonders for 20 to 30 minutes. 
While waiting for the fish to marinate, roughly chop the corianders and spring onions into even sizes. Remove the chili seeds (depending how spicy you want!) and slice them thinly.  
Leave the wok to heat up by pouring some water in it. As soon as you see little bubbles forming in the water, your wok is ready. Next, place the steaming rack in the wok and your fish on the heat-proof plate. Lastly, put your fish to steam for 15 mins, Make sure the plate does not come in contact with water and close it with the wok cover!
STEP 5: MAKING CRISPY SHALLOTS IN OIL
Slice the shallots into thin slices and preheat the frying pan with half of the vegetable oil to prepare your gravy! When the frying pan starts to feel warm, throw in the shallots to fry until it turns golden brown. Then, add in the soy sauce and remaining vegetable oil. Your gravy is ready when it starts to sizzle!
When your fish is cooked, top it with sliced chili, coriander and spring onions. Close the wok for another 30 seconds to steam, pour the shallot oil soy sauce over the fish and voila! 
Recipe #2: Longevity Noodles Stir Fry

Difficulty: Easy | Servings: 3 servings | Prep time: 10 minutes | Cooking time: 10 minutes | Total time: 20 minutes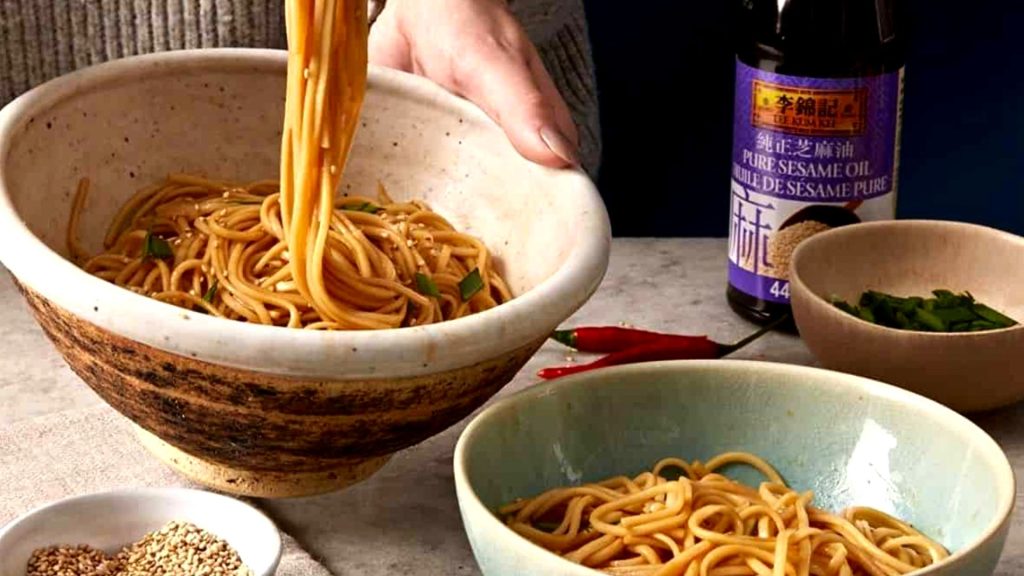 Longevity noodles are also commonly known as Long Life noodles, where it's always prepared lovingly for birthdays and the Lunar New Year in Asian households. Eating longevity noodles has an association with a long and happy life, and is also viewed as a symbol of the eater's own life. Hence, neither the cook nor the diner breaks or cuts the noodles. Supposedly, you should eat the whole noodle (without cutting it) or you might cut your life short!
Ingredients
One pack of 340g long life noodles
⅛ teaspoon of sugar
¼ teaspoon of salt
2 teaspoons of regular soy sauce
2 teaspoons of dark soy sauce
2 tablespoons of oyster sauce
½ teaspoon of sesame oil
1 tablespoon of hot water
225g of chinese chives
Freshly ground white pepper
3 to 4 tablespoons of vegetable oil
5 dried shiitake mushrooms
Kitchen Equipment
A pot
A wok
A strainer
Directions
You will need to pre-cook the noodles for 3-4 minutes in boiling water, or until they are slightly undercooked. Set aside after draining.
STEP 2: PREPARE THE GRAVY
Add sugar and salt to some hot water and dissolve. The regular soy sauce, dark soy sauce, oyster sauce, sesame oil, and white pepper can all be added at this point. Stir them in a clockwise direction until they are well combined.
Warm up the wok and spread two tablespoons of oil around it. Chop the chives, making sure to separate the light and dark parts. You can now add the dark parts of the chives and mushrooms. Stir fry for 30 seconds. 
STEP 4: FRYING THE NOODLES
You can now add the noodles and stir-fry them. Stir-fry everything together for 1 minute after spreading the sauce mixture evenly over the noodles. You can add a little oil or pour some hot water if you need the strands to unstick.
Add the remaining vegetables to the noodles and gently stir-fry them. Your dish is now ready for serving!
Recipe #3: Crispy Spring Rolls

Difficulty: Easy | Servings: 24 servings | Prep time: 30 minutes | Cooking time: 10 minutes | Total time: 40 minutes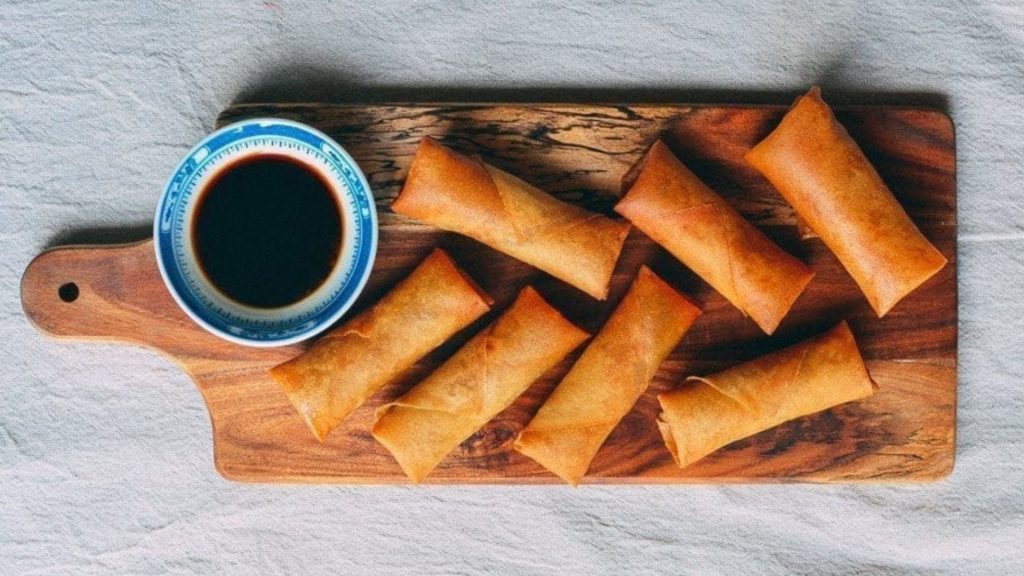 The reason spring rolls have this name is that they are traditionally eaten during the Spring Festival. A Cantonese dim sum dish composed of cylindrical-shaped rolls filled with vegetables, meat, and something sweet. A thin dough wrapper is wrapped around the filling, then the spring rolls are fried until golden yellow in color. These fried spring rolls resemble gold bars, symbolizing a wish for prosperity.
Ingredients For The Fillings
170g of minced chicken
170g of thinly sliced cabbages
2 tablespoons of oil
2 tablespoons of chopped scallions
Some vegetable oil
Ingredients For Seasonings
1 tablespoon of oyster sauce
¼ cup of water
1 teaspoon of sesame oil
¼ teaspoon of sugar
¼ teaspoon of salt
3 dashes of ground white pepper
1 large egg, lightly beaten
1 packet of thin spring roll wrappers
Directions
STEP 1: MAKE THE FILLINGS
Over high heat, heat the oil in a skillet. Mix in the minced chicken and stir-fry until it turns white. Continue to stir-fry for another 30 seconds after adding the cabbage.
Throw in all the seasonings into the skillet and stir-fry with the cabbages until it becomes dry. Then, transfer the fillings into a huge bowl to let it cool down.
Take a spring roll wrapper and place it on a flat surface. On the center of the wrapper, spread two tablespoons of filling lengthwise. You can use a small brush or your index finger to dab beaten egg around the outer edges of the wrapper.
Cover the filling with the bottom part of the wrapper. After the filling has been folded, fold both sides of the wrapper over it. Don't forget to pack the filling tightly. The spring roll should be rolled over until it reaches the other end of the wrapper. Check to see that the spring roll is sealed tightly and does not leak. Keep repeating these steps until you have used up all the filling

Heat 2 to 3 inches of oil in a wok or small saucepan for frying. Gently drop the spring rolls into the oil and fry in batches. Fry until golden brown and drain excess oil on a plate lined with paper towels and serve while it's hot for the best flavor!
Recipe #4: Nian Gao (Glutinous Rice Cake)

Difficulty: Easy | Servings: 3 servings | Prep time: 20 minutes | Cooking time: 2 hours | Total time: 140 minutes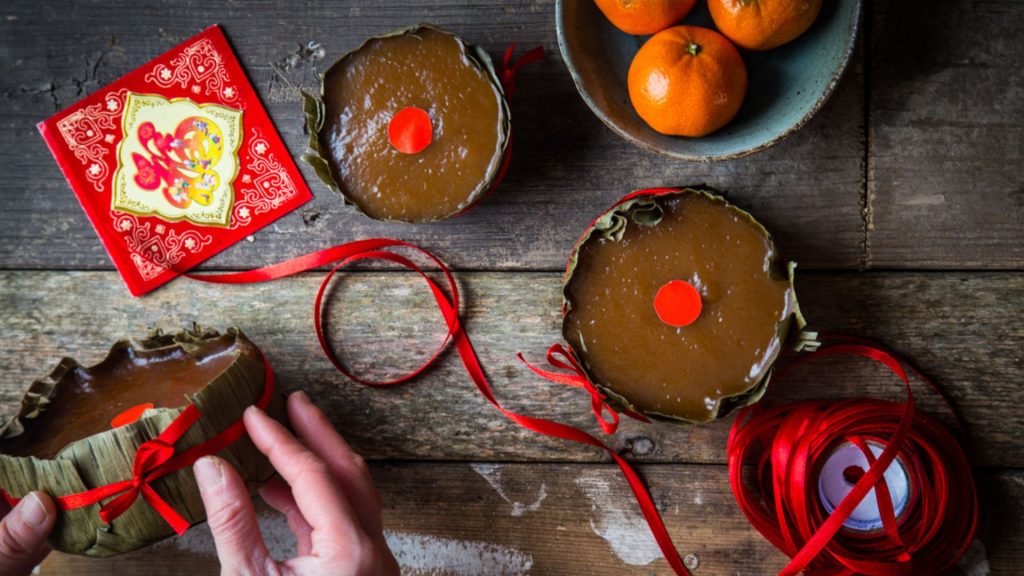 It's not unusual for people in Asian households to serve Nian Gao during the Lunar New Year. In Chinese, the word for this traditional delicacy sounds like it means "getting higher year on year," which symbolizes prosperity and better fortune in the coming year.

Ingredients
Banana Leaves
330g glutinous rice flour
450g coconut palm sugar
330g water

Kitchen Equipment
Round aluminum cake pan or round porcelain bowl with flat base

Directions
Soak the banana leaves in warm water for at least 30 minutes. Cut them to fit the inside of your container. Place the smooth side facing up. Fill the container with at least two or three layers of banana leaves.
Sift the flour in a bowl, then add water to it until you have a dough. Add sugar and mix until the mixture is fluid. Let the mixture sit for 15 minutes.
Pour the mixture carefully into the round aluminum cake pan to get rid of air bubbles. Cover the container with a cloth and steam it for 10-12 hours. When it's done, let the glutinous rice cake sit for 2-3 days before consuming it.
Recipe #5: Traditional Chicken and Chives Dumplings

Difficulty: Medium | Servings: 50 pieces | Prep time: 1.5 hours | Cooking time: 20 minutes | Total time: 2 hours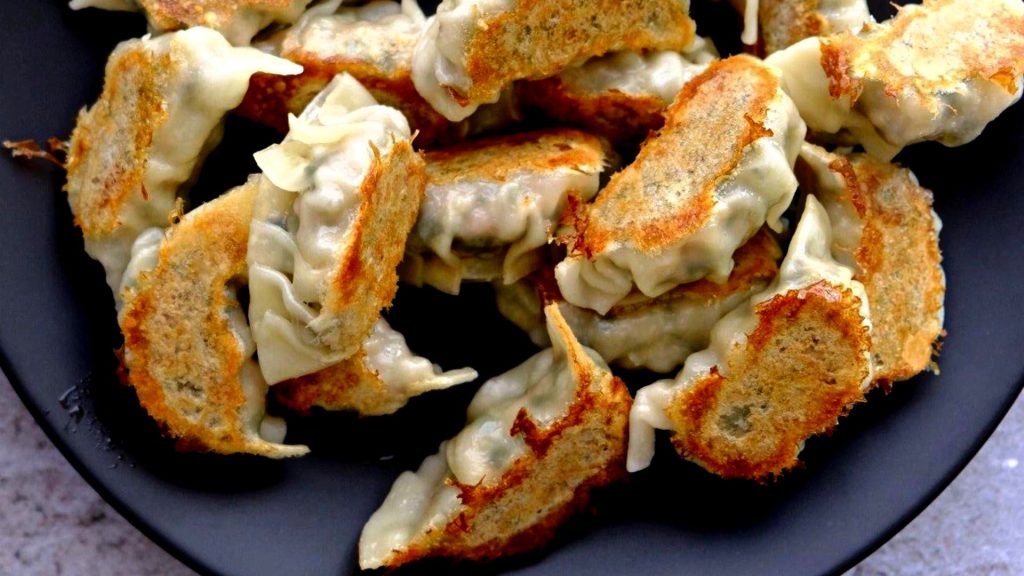 A Chinese New Year tradition since 1800 years ago, dumplings are a traditional lucky food for Lunar New Year! It's also traditionally eaten during the eve, where the dumplings can be decorated to resemble Chinese silver ingots. Legend has it that the more dumplings you eat, the more money you will make that year!
Ingredients For The Fillings
1 pack of dumpling wrappers
500g ground chicken
250g chinese chives
5 dried shiitake mushrooms
2 tablespoon of vegetable oil + more for cooking
1 tablespoon fresh grated ginger
1 tablespoon of toasted sesame oil
1 tablespoon of light soy sauce
1 teaspoon of sugar
1 teaspoon of salt
Some white pepper powder
Ingredients For The Dipping Sauce
2 tablespoon of light soy sauce
1 tablespoon of black rice vinegar
1 tablespoon of water
Some thin slices of fresh ginger
Directions
PART 1: PREPARE THE FILLINGS
Prepare the shiitake mushrooms ahead of time by rehydrating them and finely chopping them. Chinese chives need to be washed, drained, and chopped finely, then transfer into a mixing bowl. Vegetable oil should be heated over medium-high heat and poured over the Chinese chives before adding sesame oil to mix together. Add the ground chicken, the mushrooms, ginger and seasonings to the mixing bowl. Make sure all the liquid is absorbed by the meat by mixing well in a clockwise direction.
PART 2: WRAPPING THE DUMPLINGS
Place a small bowl of water next to the filling and the wrappers. You can usually find dumpling wrappers in most grocery stores or supermarkets. Prepare a large baking tray and sprinkle a small amount of flour. You can add a heaping teaspoon of filling to the center of a dumpling wrapper by placing it over the inner side of your fingers. With your other hand, dip your index finger into the water bowl and wet the edges of the wrapper, then make six pleats. (watch this tutorial to learn how to wrap your dumplings!)
PART 3: PAN-FRY THE DUMPLINGS
A non-stick pan should be preheated with vegetable oil and some dumplings should be placed in it with some space between them. On a small to medium heat, pan fry the dumplings until it turns golden brown on each side and you're done!
As we are entering the festival of Lunar New Year, where it is a time to celebrate togetherness and cook up a meal for your family to show them you care through food!
During this festival, family time is extremely precious, and we want you to be able to enjoy the celebration with your loved ones without having to worry about their health. That's why BHPetrol LPG Gas, also known as BHPetrogas is a recommended choice — a high-quality propane and butane hydrocarbon LPG gas that does not contain any harmful or nauseating substances with safety measures against gas leakage!
Our mission is to keep your family safe by protecting their health with clean, high-quality butane and propane gas. And in the spirit of togetherness, let us know how you're celebrating this year!